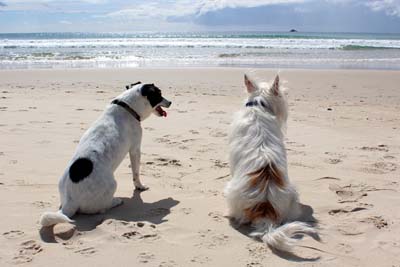 Don't you just love summer vacation? I like the mountains (did I mention I am a 90-pound Labrador Retriever?), but when my people head for the beach, I prefer to vacation with my buddies at Surry Kennels – it's like summer camp for me!
A seasoned traveler, I have a few tips for my pet friends who are going on vacation with their people.
Ask your people these questions before agreeing to go on vacation:
Is your destination a pet-friendly travel spot?
Will it be a big city where finding a green space to do your business is next to impossible? Going on the sidewalk in front of a crowd can be inhibiting. Have your walker map out nearby dog parks or practice hard surface elimination before leaving. Make sure they bring along plenty of plastic bags for cleanup. Even if you are in the great outdoors, you can't leave biological evidence of your visit. National and State parks require that you leave nothing behind….and that means NOTHING!!
How are you travelling?
By car, plane, or train?
If going by car, remind your driver that your comfort level is determined by your size.  Small dogs and cats travel well in a mid-sized car, but I need an SUV to stretch out. Have your folks rent a bigger vehicle if needed.
To my feline friends (yes, I like cats, but don't tell anybody), you can hide in your carrier and will like the trip better if your owner tosses in a little food, water, and a litter box.
We dogs need frequent bathroom breaks so we encourage our people to map out available welcome centers. Stopping on the side of the freeway is dangerous and scary for me!
If you're traveling by plane, I advise flying only to my small friends that can stay in a carrier that fits under the airplane seat. Flying in cargo is dangerous during the summer heat. Many trains will allow us on board, too. Make sure your people check with the airline or train carrier for specific regulations.
Whether going by car, plane, or train, you will travel better on an almost-empty stomach so no pigging out before you leave home. Just eat frequent small meals during your journey and drink lots of water.
Will you stay at pet-friendly hotels?
Sneaking through the lobby is hard for a 90 pound Labrador so have your people make a reservation at a hotel that enjoys pets. If staying in a motor home park, make sure your people review the regulations regarding pets.
Will you be hiking?
Bring along a dog water bottle or collapsible water bowl. The water bottles work like a hamster water bottle, are easy to transport, and you'll get the hang of drinking from them in no time. Soft sided bowls can be filled as needed, then folded to easily fit in your owner's backpack.
If the hike is extremely long, make sure your people bring along a canine electrolyte replacement such as Electromine powder that can be added to your water or get them to share their energy drink with you.
Are you crossing state lines on your trip?
If so, you must have a health certificate which is a governmental document signed by your veterinarian ensuring that you do not have a communicable disease and that all your immunizations are up to date. That means you will have to make a pre-trip visit to your veterinarian. Health certificates should be obtained within 10 days of departure and are usually valid for 30 days, so make sure your people schedule a physical exam accordingly. You don't want trouble with the law!
Did your owner pack a pet travel kit?
They need to bring enough food to last the entire trip in case they cannot find your regular food on the road. Changing diet can upset your stomach and no one enjoys being sick on vacation! And don't accept any table food no matter how tempting those Maine lobsters or Memphis BBQ might be! Bring along all your medications in the original prescription vials and have your medical records handy in case of an emergency.
Are you a nervous traveler?
If so, take a little tranquilizer. You'll feel better and the people seated next to you on the plane won't have to hear you yap the entire trip. Your veterinarian can prescribe a safe effective medication for you individual age and medical condition. And if you suffer from motion sickness, there is medicine for this, too.
Are you carrying identification?
Getting lost ruins a vacation. Make sure you have a microchip before setting out on vacation. Also verify that your registration in a national database for lost pets is current. For added safety, wear an ID collar that includes your owner's cell phone number and address. If you're hiking in the mountains, a microchip scanner may not be available.
Will you enjoy vacation?
Face it, vacation is only fun when you are included in the activities. If your people go sight-seeing without you all day and dine out at night, that's a bummer. Ask them to schedule activities that include you, or stay in a "camp" at home with your buddies!
Family vacations are great times to make memories and you're part of the family — so have fun!